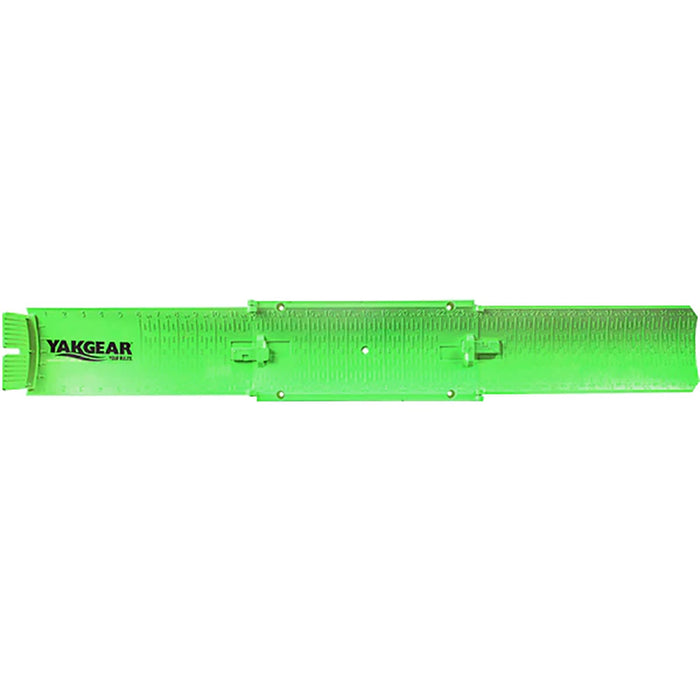 YakGear Fish Stik - Lime Green [01-9004-LG]
Fish Stik - Lime GreenLime Green
Finally, a fish measurement board specialized for anglers in tight spaces. With limited space in the cockpit of a kayak, on the deck of a paddleboard, or in a gear bag when wade or bank fishing, the Fish Stik gives users back the fishing space by folding down and storing easily.
The new design addresses the biggest problems with old-school measuring boards, poles, and tapes: it folds down to save space, and it floats. Stop compromising space and measurements. Get back to fishing; get back to measuring. At 36 inches long and folding to only 12 inches when stowed, the Fish Stik covers the full spectrum of necessity—from measuring trophy fish to stowing down under a raised seat, between tackle boxes, or in a storage crate.
The Fish Stik also has a raised 3.5-inch bump board and line slot to improve measurement accuracy, increase angler efficiency, and minimize the stress on the fish. When measuring a fish off-the-line, hold the mouth/nose of the fish tightly against the bump board for the most accurate measurement.
When measuring a fish on-the-line, the built-in line slot allows users to pull the line through the slot in the bump board and proceed with the measurement, uninterrupted by line adjustment.
Features:
12 inches when stowed and 36 inches when expanded
Easily store the Fish Grips Jr. inside the folded Fish Stik
It comes with a marker for self-applied darkened measurement indicators for CPR photos and tournament submissions
1-year warranty
Specifications:
Warning: Do not add substantial weight to The Fish Stik, as the addition of weight may reduce its ability to float