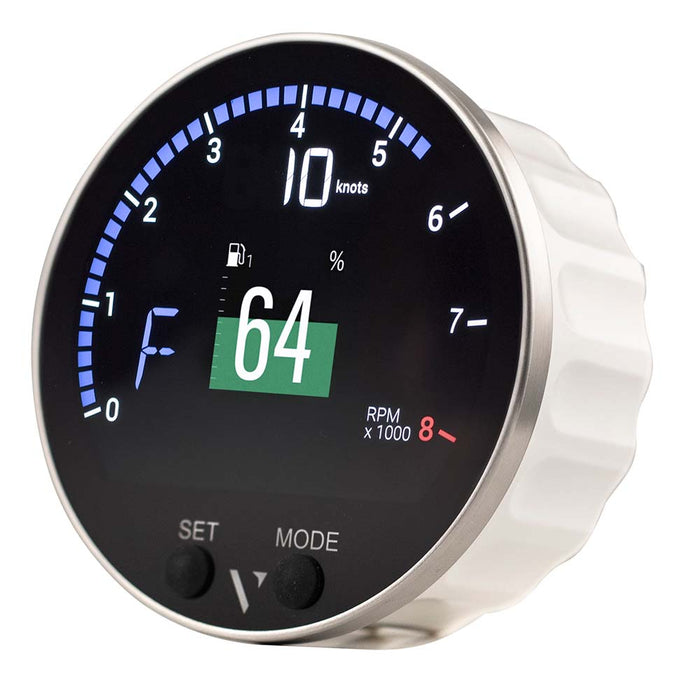 Veratron 85mm (3-3/8") VMH-35S Multifunction Gauge w/Voltage Dependent (0-5V) Sensor Input w/o GPS [B00143601]
85mm (3-3/8") VMH-35S Multifunction Gauge with Voltage Dependent (0-5V) Sensor Input without GPS
The ideal solution for your outboard engine monitoring. Digital sun-readable display with analog inputs and NMEA 2000 converter.
The first in its new VMH line of premium marine gauges, the Veratron VMH 35-S is engineered for single inboard or outboard engine applications.
Powered by the latest microprocessor, the Veratron VMH 35-S is blazingly fast. Yet even when set at full brightness, it draws a mere 170mA of power—a fraction of what comparably-sized TFT screens use.

The VMH 35-S has the capacity to provide 30 types of data including engine, EcoMode pop-up screen, RPMs up to 8000 with a programmable overspeed alarm, tank levels, battery status, and vessel information. It's easily configured using the embedded on-screen menu and soft-touch buttons.
Features:
Intelligent Battery Sensor (IBS) port
Analog inputs: 1x Resistive /1x 0-5 V / 1x Frequency
Stylish black-glass design with brushed stainless-steel ring
Front ring: Brushed stainless steel
Front lens: Mineral glass
Display: Color IBN + 1.44" TFT optically bonded
Connectors: Molex MX-150 12 pins / DeviceNet M12 5 pins
NMEA 2000 certified with embedded analog gateway
Technical Specifications:
Nominal voltage: 12V
Operating voltage: 9-16V
Current consumption: ≤ 150 mA (normal mode)
Protection class: IP X7
Dimensions: 100 mm (outer) and 85 mm (mounting hole)
This product may not be returned to the original point of purchase. Please contact the manufacturer directly with any issues or concerns.
Specifications:
Box Set: No
Gauge Size: 3-3/8"
Gauge Type: Multifunction
Series: VMH
Voltage - Input Range (Volts): 12v
Box Dimensions: 4"H x 6"W x 6"L WT: 0.75 lbs
UPC: 7640190290213
Quick Guide (pdf)
Owner's Manual (pdf)