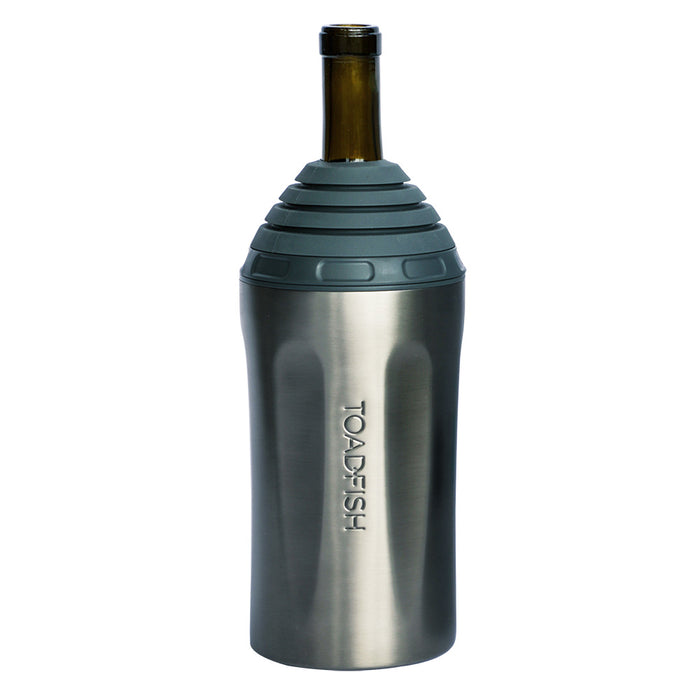 Toadfish Stainless Steel Wine Chiller - Graphite [1111]
Stainless Steel Wine Chiller - Graphite
The Toadfish® Wine Chiller is the ultimate wine accessory. Keep your favorite wine at the perfect temperature longer. Double-walled, stainless steel construction keeps your wine, champagne, sparkling water, or other like-size beverage chilled for hours. Take your iceless chilled wine anywhere with this revolutionary, easy-to-carry, lightweight, and portable design.
Features:
Color: Graphite
Condensation-free and does not require ice
The adjustable top fits more bottles, better
Adjustable Top - fits most standard wine, Champagne, Sparkling Water Bottles, etc.
Flexi-Lock Design - holds the bottle securely while pouring
Double-Wall Vacuum Insulation - keeps desired liquid chilled for hours!
Stainless Steel - Made with high-grade stainless steel for a condensation-free grip
How to Use
Simply unscrew the top, insert your chilled bottle, screw the top back on, and enjoy! The expandable locking lid holds your bottle securely while pouring so you don't have to worry about taking the bottle in and out until it's empty.
*DO NOT place wine chiller in the freezer