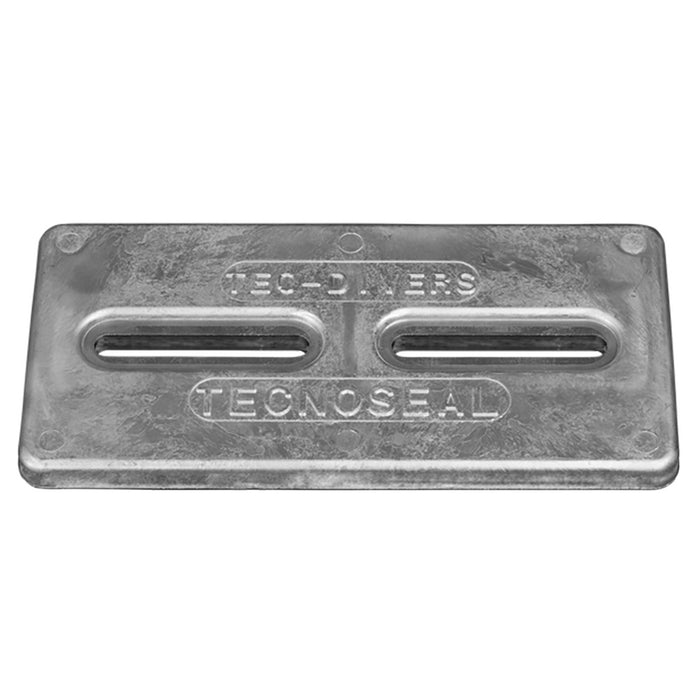 Tecnoseal Rectangular Zinc Plate Anode w/Inserts - 12" x 6" x 1" [TEC-DIVERSD]
Rectangular Zinc Plate Anode with Inserts - 12" x 6" x 1"
This rectangular plate anode is designed to be installed on the hull of a boat. The slotted holes in the plate prevent the need for drilling and give divers the ability to install them underwater. Much like other anodes, this anode works by absorbing corrosion and preventing it from reaching other metallic surfaces of a boat.
Features: 
Meant for saltwater boat use
Boat type: Yacht & Superyacht
Specific: Rectangular plate with insert 
Specifications:
Material: Zinc
Weight: (lbs) 14.68 / (kg) 6.66
Dimensions:
i: (inch) 5.51" / (mm) 140
l: (inch) 12.01" / (mm) 305
a: (inch) 5.98" / (mm) 152
h: (inch) 0.98" / (mm) 25
Ø: (inch) 0.51" x 4.02" / (mm) 13 x 102
*Sold as an Individual
Specifications:
Quick Guide (pdf)