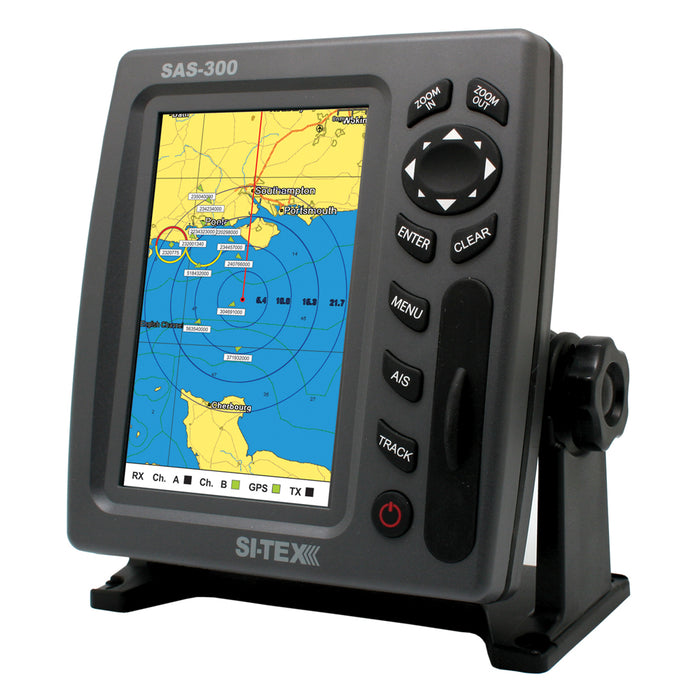 SI-TEX SAS-300 AIS Class B Transceiver - Display Only f/Use w/Existing AIS [SAS-300-3]
SAS-300 Class B AIS System - Display Only for Use with Existing AIS

The SAS-300 is a complete Class B AIS system designed for simple to use management, control and display of all AIS targets within VHF range. AIS data can be received from all types of Class B or Class A transponders, and can be displayed either on a "radar" type display, with chart overlay or without. The vivid graphics and the simple menu structure on the 6.5 inch, high resolution displays make the unit easy to use. The data is easy to access and the information easy to analyze, enabling the user to quickly move from screen to screen and gain access to the information specifically required.

Features:

Complete information from all AIS vessels

Radar Style Display

Heads Up, North Up, and True Motion Chart Orientations

Plot targets on detailed C-Map Charts

Bright 6.5" TFT LCD Display

5 track memories totaling 50,000 pts

Programmable CPA and TCPA alarms

Display vessels by selectable color and icon

Filter vessels by type of transmission

Built in Class B AIS Transceiver

Transceiver easily programmed via keypad

Transmitter easily silenced via keypad

Tracks the movement of up to 5 vessels with 50,000 point track history and optional live details on individual vessels

Monitors position, speed and heading of vessels on a background chart or on detailed C-Map cartography (optional)

Allows variable parameters to be set for CPA and TCPA alarms

Listing of all vessels with name, MMSI, range and bearing, with full details on each vessel, and instant GOTO function

Ability to display different types of vessels by color, and different types of transmission by icon shapes
Displays the Following Information:
Class A vessels

Class B vessels

Base Stations

Aids to Navigation

AIS SARTs

Search & Rescue
*Display ONLY
This product may not be returned to the original point of purchase. Please contact the manufacturer directly with any issues or concerns.
Specifications:
AIS Class: B
Display Included: Yes
Box Dimensions: 9"H x 9"W x 13"L WT: 5.75 lbs
UPC: 010407420059
Quick Guide (pdf)