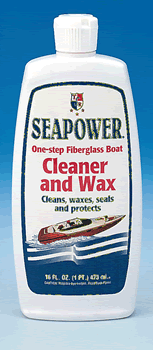 Seapower One-Step Fiberglass Cleaner and Wax Quart
The professional one-step fiberglass boat cleaner wax! Cleans, waxes, seals and protects the fiberglass surface. Contains the finest Carnauba waxes and silicones. Removes oxidation, residue, dock marks, grease and dirt leaving behind a durable high-gloss finish. Excellent for hand or machine use.
Additional Applications:
Stainless Steel - Removes most rust stains. Chrome - An excellent cleaner. Rubber and Vinyls - Cleans inflatables, fenders,etc. Exhaust Stains - Will remove most exhaust stains.