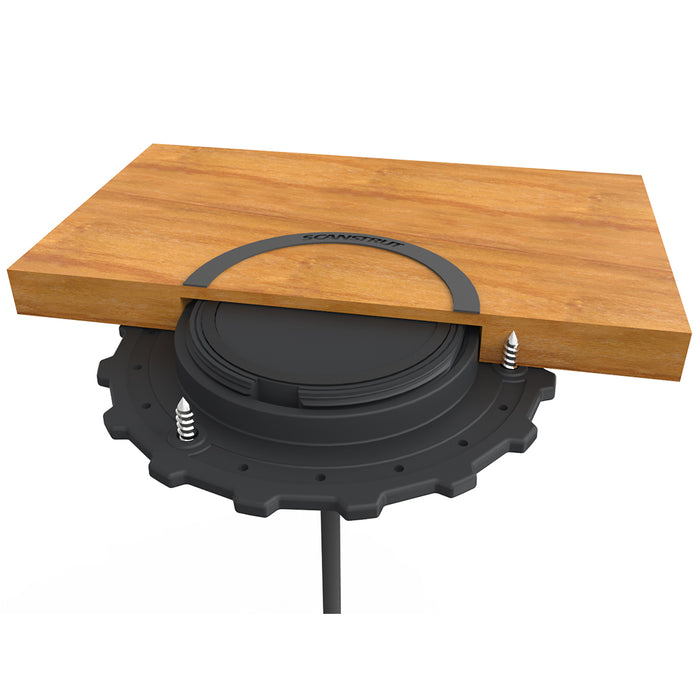 Scanstrut ROKK 10W Waterproof Wireless Charger - Hidden [SC-CW-01F]
ROKK 10W Waterproof Wireless Charger - Hidden
The IPX6 waterproof 12/24V Qi-certified phone waterproof wireless charging range enables charging in the outdoor environment without needing phone charging cables.  Designed from the ground up, this is the world's first waterproof wireless charge system created specifically for use on board, with the unique technology housed in an IPX6, fully encapsulated and sealed unit.
Working directly with 12/24V systems, Scanstrut ROKK Wireless is ideal for life on the move and perfect for sailing, powerboats, and RV.  Easy install, anywhere you need your phone - indoors or out.  No more wires! Exceeding the latest and highest standards of the Qi wireless protocol, ROKK Wireless is independently certified to deliver ultra-safe charging anywhere on board.
Our new upgraded 10W chargers are up to 60% faster and have been designed for the latest generation of power-hungry devices and apps.
Our improvements don't just stop there, now featuring easier phone alignment with a larger charging area, and electrical componentry that has been enhanced to significantly improve your phone's charge times, even in the harshest outdoor environments.
With the same great look, ROKK Wireless is tried and tested in all corners of the globe in all weathers, and conditions.
Case Compatibility:
ROKK wireless is designed to work with most slimline phone cases up to .11" (3mm)
Features:
Installation is simple on any boat, RV, ATV, or outdoor location.  Sub-surface, hidden from view but always ready to charge.  Engineered to be installed under the surface, leaving the top surface uncluttered and perfect. 
Compatible with all Qi Wirelessly charging electronics.
Technical Specifications:
Input Voltage Range - 10-30V DC (12/24V system) 
Input current max - 2A  
Output Power - 10W (9V,1.1A)
IPX6 Waterproof
Qi-certified wireless charging
Protection - UV Resistant
Dimensions (W x H) - 3.93" (100mm) x .57" (14mm)
In the Box:
Charger
Locking ring
Mounting hardware
Instruction manual 
*Sold as an Individual
Specifications:
Type: Chargers
Box Dimensions: 2"H x 5"W x 10"L WT: 0.4 lbs
UPC: 5060114798045
Quick Guide (pdf)