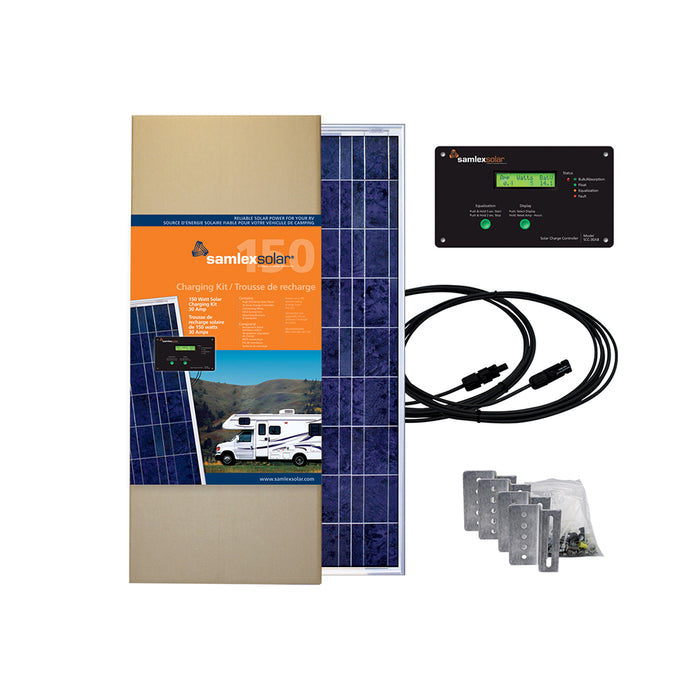 Samlex Solar Charging Kit - 150W - 30A [SRV-150-30A]
Solar Charging Kit - 150W - 30A
Use a Samlex Solar Charging Kit to keep the batteries in your RV or utility vehicle charged and healthy. Add a DC-AC Power Inverter to your system and you can run all of your favorite household devices from anywhere!
The Samlex SRV-150-30A Solar Charging Kit comes with a high efficiency 100 Watt solar panel, a 30 Amp charge controller, connecting wires and aluminum mounting brackets and hardware that can be used to secure the solar panel to the roof of your remote structure or vehicle, or any other flat surface.
Every Charging Kit includes an SCC-30AB Charge Controller featuring:
Micro-processor control
30 Amp charging capacity
Battery equalization
Digital LCD display indicates voltage, current and battery AH
8 charge settings for different battery types
Optional remote temperature sensor
4 stage charging with LED indicators
Dual voltage capability 12V/24V
Features:
High efficiency crystalline solar cells
Low profile panel design
All weather Anodized aluminum and Tempered Glass construction
25 year Power Warranty
Top quality cable & mounting hardware
Specifications:
Watts: 150 Watt Solar Module
Amps: 30 Amps
Dimensions: 57.91 x 26.22 x 1.38 (in)
Dimensions: 147.1 x 66.6 x 3.5 (cm)
Warranty: 25 Year Power Warranty (Canada/US)
Applications:
Recreational Vehicles
Off-grid/mobile solar systems
Power supply for remote equipment
Monitoring systems for the oil & gas industry
Traffic, security, environment, and other remote monitoring and signaling systems
Water pumping systems
Rural electrification
Small home power systems
12V and 24V battery charging system
Other industrial and consumer applications

WARNING: This product can expose you to chemicals which are known to the State of California to cause cancer, birth defects or other reproductive harm. For more information go to P65Warnings.ca.gov.
Owner's Manual (pdf)
Brochure (pdf)