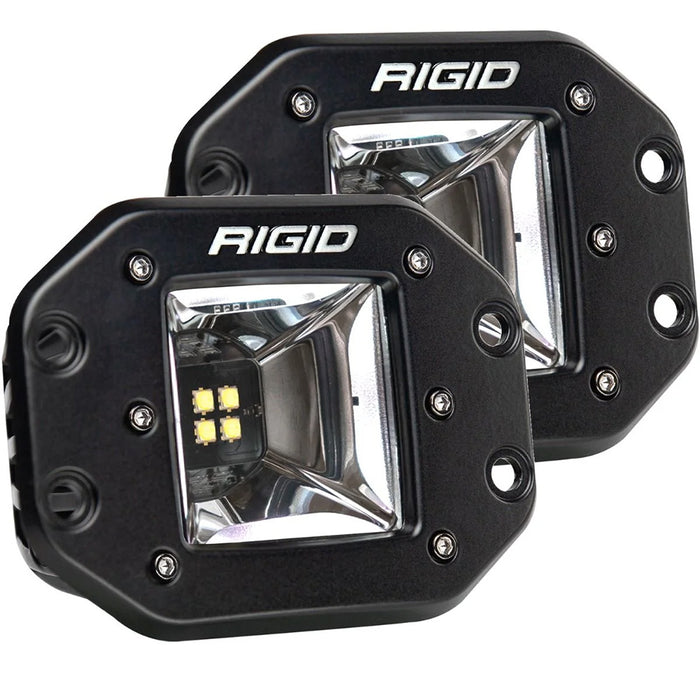 RIGID Industries Radiance Scene - RGBW - Flush Mount - Pair [682153]
Radiance Scene - RGBW - Flush Mount - Pair
Radiance+ RBGW flush-mounted pod scene light provides a clean flush-mount option for the already epic light. The Radiance+ RGBW Pod Scene Light is built with the same high-grade aluminum alloy housing as our D-Series lights. The RGBW backlights provide the ability to toggle between eight available backlight options with the flip of a switch: red, green, blue, light blue, purple, amber, white, or demo mode.
Utilizing the latest in LED technology and incorporating a thermally optimized heat sink, the Radiance+ RGBW Pod Scene Light provides up to 100 degrees of horizontal spread for maximum coverage. Scene lighting provides a clear, bright light with minimal amp draw.
The Radiance+ RGBW Pod Scene Light is feature-packed, with a black exposed printed circuit board, forward-projecting optics that optimize the light output, and an integrated mounting plate that allows installers to mount the light flush with the chosen surface. The RIGID Radiance+ RGBW Pod Scene delivers a stylish approach to scene lighting.
Features:
8 backlighting options (red, green, blue, light blue, purple, amber, white, or demo mode)
Backlighting can be independently controlled using switch logic
Black exposed printed circuit board
10-year warranty
9-15 V DC
Black powder coat finish
Pressure equalizing vent
IP68 compliant - dust and water ingress
High-grade aluminum alloy housing and heat sink
Over/under voltage protection
high-impact polycarbonate lens
Mounting brackets are included
RFI/EMI protection
Rohs compliant
Off-road use only
Product Comes with:
Two flush-mount scene Radiance+ RGBW light pods
Mounting brackets
Media pack
Specifications:
Size (inch): 3" 
Weight (Lbs): 1.30
Optics: Scene light
Watts: 24
Amp Draw: 1.7
Raw Lumens: 2970
Lux at 10m: 22
Beam Distance at 1Lux: 50
Beam Distance at .25 Lux: 93
Peak Beam Intensity (cd): 2166   
Horizontal Beam Angle: 100
Specifications:
Amps - Draw: 1.7
Bulb Watts: 24
Waterproof: Yes