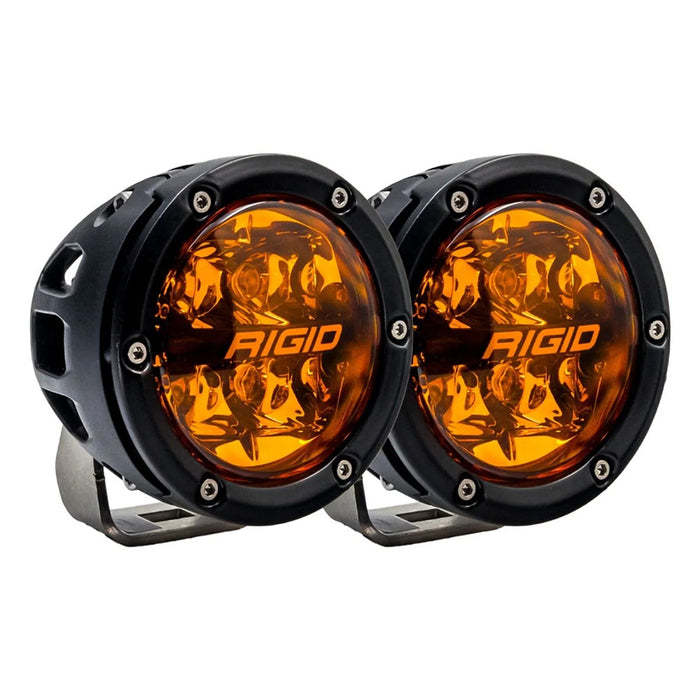 RIGID Industries 360 Series 4" Spot w/Amber Pro Lens - Pair [36123]
360 Series 4" Spot with Amber Pro Lens - Pair
RIGID's Amber PRO Edition 360-Series 4-inch is a powerhouse when you need to cut through dust, features an amber backlight and a spot optic that projects up to 3,060 raw lumens, and is protected by an aluminum housing. 
Good visibility is necessary when out on the trail, over landing, or racing! RIGID's Amber PRO Edition was developed specifically for high dust, smoke, and other low-visibility conditions. The amber lighting provides superior performance in adverse lighting conditions thanks to the unique attributes of the human eye that make it easier to process light in longer wavelengths. This reduces glare, enhances definition, and improves contrast, allowing you to see farther than traditional white lighting. 
It features a blacked-out circuit board, prominent RIGID branding, and a limited lifetime warranty making it one of the most robust and valuable round lights on the market. RIGID's Amber Pro Edition makes it easier than ever to Own The Night.
Features:
Amber PRO Lens
Independently togglable Amber Backlight
9-36 VDC Operation
Flying Leads for Universal Installation
Alloy Housing and Heatsink
Reverse Polarity Protection
Over/Under Voltage Protection
IP68 Compliant - Dust/Water Ingress
Pressure Equalizing Vent
Patented Optics
50,000 Hr+ LED Lifespan
Wiring Harness Sold Separately
Limited Lifetime Warranty
Off-Road Use Only
Specifications:
Size (inch): 4"
Weight (Lbs): 1.20
Optics: Spot
Watts: 28
Amp Draw: 2
Raw Lumens: 3060
Lux at 10m: 362.7
Beam Distance at 1Lux: 190.4
Beam Distance at .25Lux: 380.9
Peak Beam Intensity(cd): 36266
Product Comes With:
(2) 4 Inch Spot 360-Series with Amber backlight and Amber PRO lens
Surface Mount Brackets
Hardware
*Sold as a pair (two lights total)
Specifications:
Housing: Aluminum
Length (Inches): 4.00
Box Dimensions: 6"H x 6"W x 9"L WT: 3.1 lbs
UPC: 849774035814