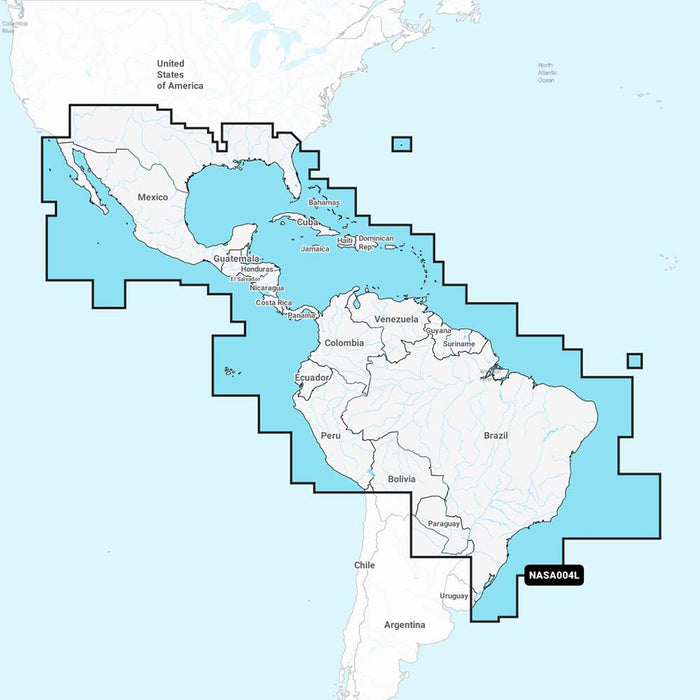 Navionics NASA004L - Mexico, Caribbean to Brazil - Navionics+ [010-C1364-30]
NASA004L - Mexico, Caribbean to Brazil - Navionics+ 
Get the world's No. 1 choice in marine mapping - with the best, most up-to-date Navionics+ cartography on your compatible chartplotter. 
For offshore or inland waters, this all-in-one solution offers detail-rich integrated mapping of coastal waters, lakes, rivers and more.  Get SonarChart™ 1' (0.5 meter) HD bathymetry maps, advanced features such as dock-to-dock route guidance technology, live mapping and Plotter Sync to provide wireless access to daily updates.
The Navionics Chart Installer software also ensures the freshest chart data every time out.  Navionics dock-to-dock route guidance solutions give you a suggested path to follow through channels, inlets, marina entrances and more.  Multiple shading options aid in shallow water navigation and make it easy to highlight a target depth range for the best fishing spots.
Chart Code - NASA004L
Coverage Area:
Coverage of Mexico, Central America and Brazil. Coverage includes the US Gulf Coast and the eastern US coast to Savannah, GA; Bermuda; the Bahamas; Cuba; Hispaniola; Puerto Rico and the Virgin Islands; the Windward and Leeward Islands; Jamaica; the Panama Canal, the western coast of South America to Arica, Chile; the Galapagos Islands; the Revillagigedo Islands; the Ilha Fernando de Noronha; the Saint Peter and Saint Paul Archipelago and the Rocas Atoll.
Features:
Nautical Chart – Comprehensive charts are derived from multiple officials, government, and private sources, displayed in a familiar look and feel
SonarChart HD Bathymetry - Innovative 1' (0.5 m) bathymetry charts are created by using Navionics proprietary systems that augment existing content with sonar data contributed by the boating community
Community Edits - Get useful local knowledge from edits made by users of the Navionics Boating app on your compatible smart device.
Daily Updates - Up to 5,000 daily updates to our charts give you the most accurate, most current Navionics data available.1
Dock-to-dock Route Guidance2 - Start your trip with a suggested path.
SonarChart Live Mapping - Watch new HD depth maps develop in real-time as your boat moves through the water.
Advanced Map Options - Customize your view to focus on the details that matter most
Plotter Sync1 - Transfer routes and markers, update chart layers, and more - between your compatible chartplotter and the Boating app.
Compatibility:
Check the compatibility of Navionics+ content and features with your GPS chartplotter.
Technical Specifications:
In the Box:
1Subscription not required for SonarChart Live mapping feature on some chartplotter models; requires latest chartplotter firmware release. 
2Dock-to-dock Route Guidance is for planning purposes only and does not replace safe navigation operations.
*Navionics+ and Platinum+ cards are not compatible with Garmin chartplotters.
*Sold as an Individual
This product may not be returned to the original point of purchase. Please contact the manufacturer directly with any issues or concerns.
Quick Guide (pdf)
Brochure (pdf)