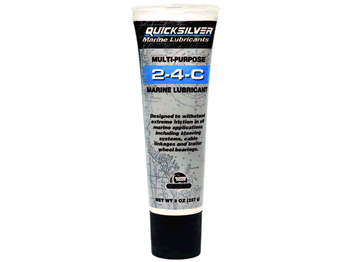 Mercury / Quicksilver 92-802859Q1 2-4-C Lube 8oz Tube
GENUINE Quicksilver by Mercury Marine
Quicksilver 2-4-C Marine Grease with PTFE is a high quality, extremely versatile lithium-based, NLGI 2 grease that won?t break down when mixed with water. It also has:
? Excellent resistance to oxidation and degradation
? Extreme pressure additives to withstand friction in a wide variety of operations and temperatures
??Replaces Quicksilver Special 101 Lubricant
?
For use in the following marine applications:
? Steering systems/cable linkages
? Throttle and shift cables and linkages
? Remote controls
? Prop shafts
? Swivel pins
? Tilt lock mechanisms/tilt tube
? Hinge pins
? Boat trailer wheel bearings