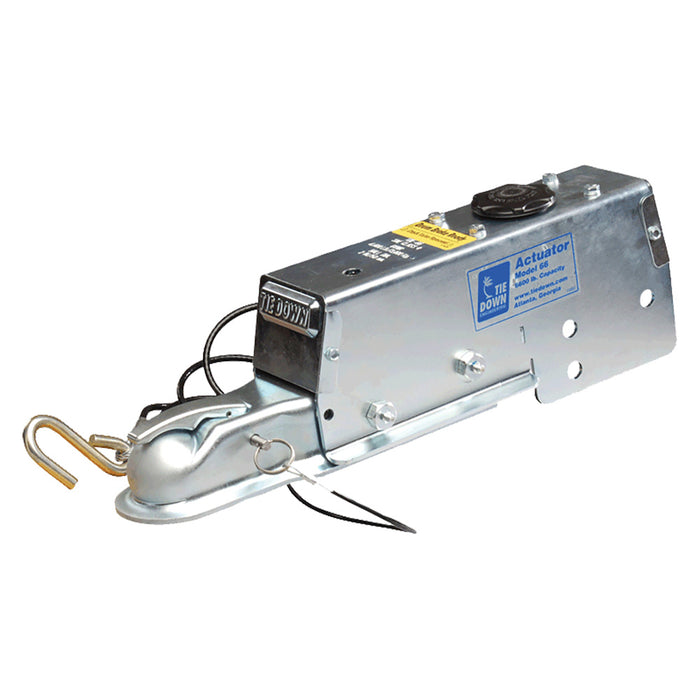 Load Rite 6,600lb Disc Brake Actuator Tie Down Engineering Model [6080.45]
6,600lb Disc Brake Actuator – Tie Down Engineering Model
The Model 660E works by the "surge" or "push" of the trailer toward the tow vehicle. This automatically synchronizes the trailer brakes with the tow vehicle axle brakes. When the trailer pushes against the tow vehicle, the actuator telescopes together and applies the force to the master cylinder, supplying hydraulic pressure to the brakes. The built-in dampening shock absorber retards the telescoping shock against the hitch ball. Be sure to comply with the regulations for brakes in your state. Brake laws are sometimes minimum standards, and you may wish to add additional brakes to a trailer.
Read the tow vehicle's owner's manual on towing capacity and other towing recommendations before installing brakes or this actuator. The Model 660E Actuator is completely assembled and ready to bolt into place, if not already installed. Manufactured for tongue sizes: 3"x 3", 3"x 4" & 3"x 5".
Features:
6,600 lbs. capacity
Fits 2″ in. hitch ball
For use with disc brakes
Maximum Actuator Capacity:
Gross Load: 6,600 lbs.
Maximum Tongue Load: 650 lbs.
The actual in-service rating is limited to that of the ball and hitch or the least-rated component on the tow vehicle or trailer being used, or the trailer manufacturer's G.V.W.R. shown on the certification label, whichever is lower (note: G.V.W.R. is the Gross Vehicle Weight Rating, which includes the trailer and the load weight as a total gross weight).
Quick Guide (pdf)
Owner's Manual (pdf)