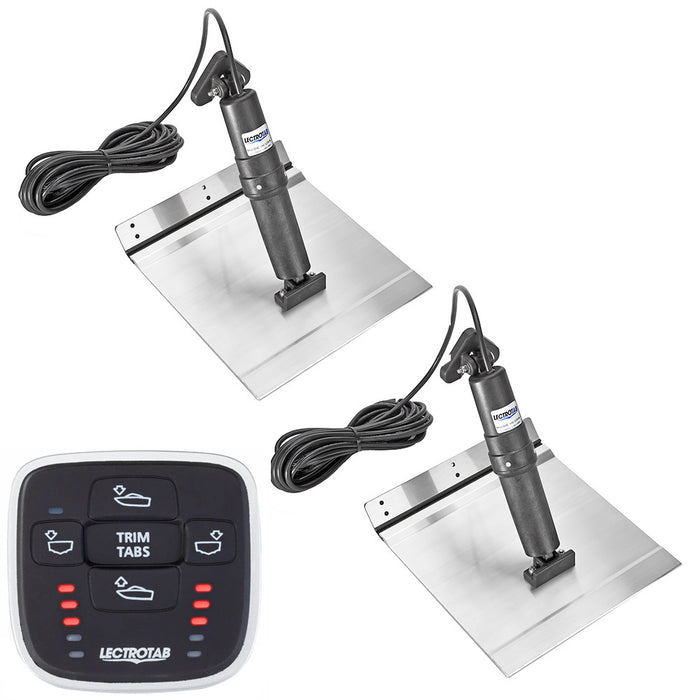 Lectrotab XKA Aluminum Alloy Trim Tab Kit w/MLC-1 Control - 12 x 9 [XKASML12X9A]
XKA Aluminum Alloy Trim Tab Kit with MLC-1 Control - 12 x 9 
The Lectrotab Aluminum Alloy trim tabs are uniquely designed to meet the needs of Aluminum hulled boats and are an economical option for all boats.  All Aluminum Alloy tabs are fabricated with an extremely strong "no-break" polypropylene hinge.  All Aluminum tabs are sealed with a corrosion resistant epoxy coating. 
Combined with a precision-engineered actuator, this kit is built to combine quiet operation with a non-hydraulic, maintenance free design.  The unit is corrosion free, ensures very accurate tab positioning, provides maximum lift force, and is totally self-contained for easy installation.  The actuator assembly is packaged in a non-metallic permanently sealed housing.  No components need to be installed inside the boat. 
Most importantly, unlike hydraulic trim tabs, there is no oil to leak out.  The actuator incorporates either a standard or low profile transom mounting bracket. 
The Lectrotab MLC-1 is a microprocessor based trim tab control that can move both tabs simultaneously at the touch of a single button.  It includes LED tab position indicators which will automatically dim in darkness and brighten in sunlight. 
Features:
All Tabs sealed with a corrosive resistant epoxy coating
Equivalent strength to 10 gauge stainless steel
"No Break" polypropylene hinge tested over 300,000 cycles to a 90° bend without failure
Upper ram seal location cannot be damaged due to fouled ram or barnacle growth
Utilizes internal pressure equalization system
Internal brake system prevents unwanted tab movement when under way or backing down
Quiet operation
Actuators are fully load tested to push 1000 lbs of force
Non-metallic external structure which cannot corrode and will not deteriorate in the sun or under water
Technical Specifications:
Trim Tab Size (L x W) - 12" x 9" (30 x 23 cm)
Boat Length - 18' to 29' (5.5 to 8.5 M)
Trim Tab Material - Marine grade 6005-T5 Aluminum Alloy 
Actuator DC Voltage - 12 V
Actuator Stroke Length - 2.25" (57 mm)
Actuator Cable Length  - 23' (7 M)
Actuator Vertical Height - 11.875" (302 mm)
Control Dimensions (W x H) - 3.15" x 3.07" (80 x 77 mm)
Control Mounting Hole Cutout - 2" (50 mm)
Control Operating Voltage - 12 or 24 V
In the Box:
One (1) Manual Leveling Control
Two (2) Aluminum Alloy tabs
Two (2) actuators w/23' (7 M) cables
Instruction Manual 
*Sold as a Kit
Specifications:
Actuator Type: Electro-Mechanical
Construction: Aluminum Alloy
Box Dimensions: 4"H x 5"W x 6"L WT: 14.4 lbs
Owner's Manual (pdf)
Brochure (pdf)