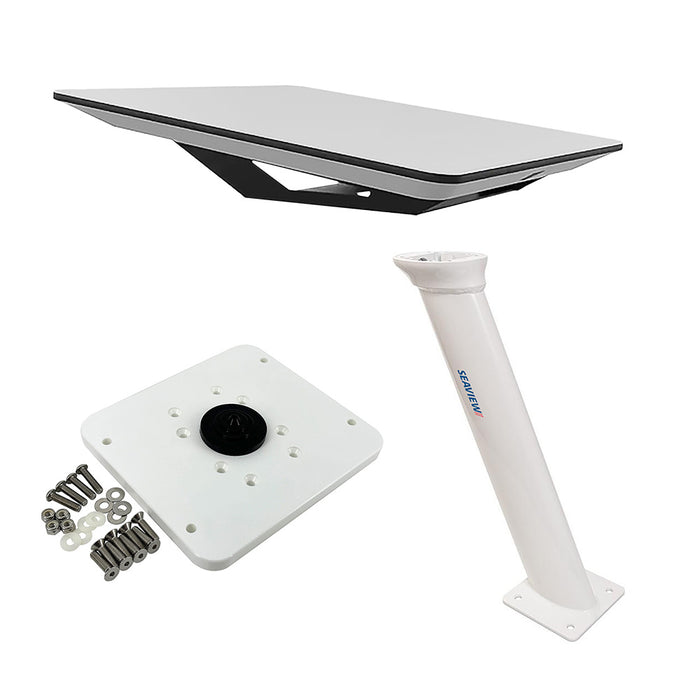 KVH Starlink Flat Panel Kit w/24" Seaview Pedestal Mount Adastlka Starlink Top Plate [72-1048-SV24]
Starlink Flat Panel Kit with 24" Seaview Pedestal Mount & Adastlka Starlink Top Plate
The Power and Reliability of KVH the Speed of Starlink
Keep your family, friends, and crew connected when you turn to KVH for a Starlink high-performance terminal, as a standalone solution, or as part of a comprehensive hardware and service solution. Enjoy seamless, intelligent integration of Starlink's speed and affordability (where available) with KVH's white glove service, proven global HTS network, multi-channel hybrid connections, and outstanding performance.
Add a Starlink flat panel high-performance terminal to your yacht's TracNet solution with our simple, single-cable installation and exclusive intelligent hybrid switching to ensure you enjoy the best and fastest communications at all times. For existing TracPhone® terminal users, an easy configuration update and single cable enables automatic switching between KVH's global HTS network and Starlink for seamless connectivity.
Turn to KVH as your single source for a complete Starlink solution. Enjoy same-day shipping, unmatched customer satisfaction, and 24/7/365 live warranty support and global service through KVH's OneCare Global Support Program. Plus you can activate your Starlink through KVH when it's right for you.
Enhance your onboard communications with fast speeds, affordable data, and KVH's advanced, integrated services for enhanced security, connectivity, and versatility.
Starlink Available as a Standalone Solution or a Supplement to KVH's Award-winning Connectivity Solutions
Starlink flat panel high-performance terminal and service with high-speed, low-latency Internet
Choice of KVH TracNet™ hybrid terminal with integrated global VSAT, 5G/LTE cellular, and shore-based Wi-Fi bridge, or TracPhone VSAT terminals
KVH ONE™ global hybrid network
Rely on the Speed of Starlink and the Support of KVH
Bringing connectivity to your customers has never been so easy.
Enhance your onboard communication offerings with Starlink and KVH, the world leader in marine connectivity.
Unmatched customer satisfaction with easy activation through KVH
When you order Starlink from KVH, customers are activated when it's right for them (unlike other Starlink suppliers, who start billing for monthly service after shipping).
KVH offers live 24/7/365 Starlink activation service plus plan change and service pause requests!
Rapid activation and no delays mean your customers are always connected while onboard.
Superior performance with KVH connectivity and intelligent hybrid switching
For yacht owners who want the most reliable, versatile connectivity solution afloat, we can help you offer:
Seamless, intelligent integration of Starlink's speed and affordability with:
KVH's proven global HTS network 
Multi-channel connections
Network management devices
NMEA award-winning TracNet hybrid antennas with VSAT, 5G/LTE, and Wi-Fi all under one dome
Features:
Ultra high-speed data rates (as fast as 350 Mbps down)
Ultra-affordable data (as low as $1.00 per GB)
"Best effort" low latency LEO network
End-to-end data encryption
Fully deployed global satellite network
Quick Guide (pdf)