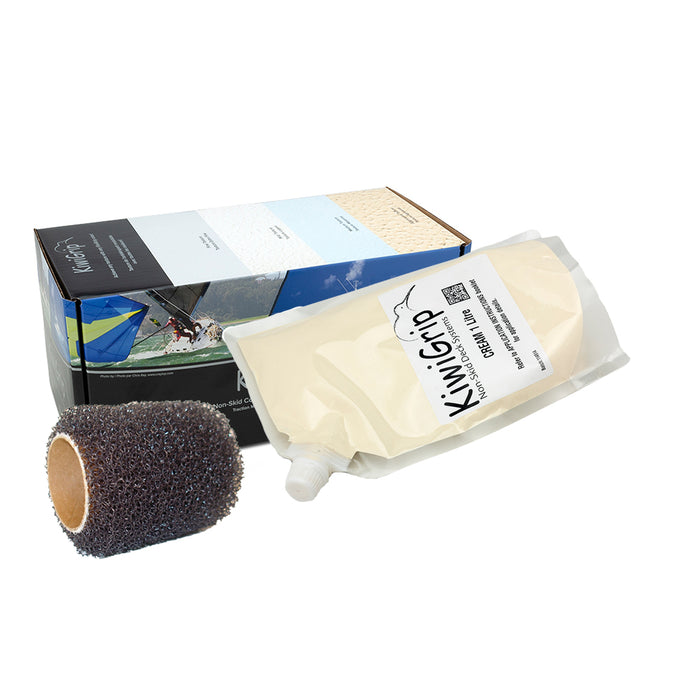 KiwiGrip 1 Liter Pouch - Cream w/4" Roller [KG-1CP-R]
1 Liter Pouch  - Cream with 4" Roller
KiwiGrip is a durable, non-skid deck coating system developed by New Zealand yachtsmen specifically for use on boats. Most other traction or anti slip coatings are simply repackaged industrial products.
The hard acrylic polymer provides a durable, homogeneous, elastic surface. It spreads quickly and easily. By using one of KiwiGrip's proprietary rollers and by varying application technique, the texture can be adjusted from fine to aggressive for the right amount of traction.
In late 2011, KiwiGrip introduced an improved formulation for longer working time and improved color retention.
Features:
Low-glare, IR reflective finish
Homogenous color that won't wear through and expose filler materials
UV stabilizer for consistent color
Vary texture by application technique used
Apply over wood, fiberglass, epoxy, concrete, or metal
Rolls over other worn non-skid surfaces nicely
Non-toxic, no volatile solvents, very low VOC
Cleans up with soap and water
Complete, detailed "how-to" instructions come with every can
Coverage: 2 square meters per liter (80 SF/Gal)
Specifications:
Color: Cream
Box Dimensions: 3"H x 6"W x 10"L WT: 3.7 lbs
UPC: 015568074639