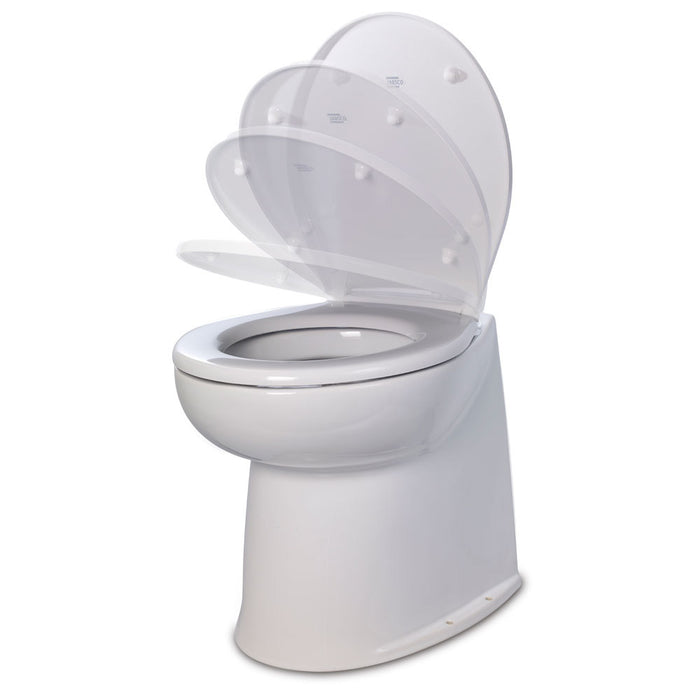 Jabsco Deluxe Flush 14" Straight Back 12V Raw Water Electric Marine Toilet w/Remote Rinse Pump Soft Close Lid [58280-3012]
Deluxe Flush 14" Straight Back 12V Raw Water Electric Marine Toilet with Remote Rinse Pump & Soft Close Lid
You can experience all the comforts of home at sea with Jabsco Deluxe Flush electric marine toilet. Designed for the discerning owner looking for luxury and comfort, the Deluxe Flush portfolio features a space-saving, stylish design with minimal water usage and virtually silent operation.
Features:
14" Straight back
Space-saving stylish design
Household size soft closing seat
Virtually silent operation
Sea, river, or lake water rinse model
Powerful non-clogging large bore flush pump macerates waste
Specifications:
Bowl Size: Domestic
Lid: Soft close
Rinse Type: Raw water
Rinse Pump/Solenoid Valve: Remote Rinse Pump
Voltage DC: 12V DC
Recommended fuse Size (AMP): 25
Flush control Switch: 4-Button Touch Panel
Height: (inch) 14.4" / (mm) 366
Width: (inch) 14.8" / (mm) 375
Depth: (inch) 17.7" / (mm) 450
Weight: (LBS) 55.1" / (kg) 25
One-Touch Control Pad:
All Deluxe Flush marine toilets come complete with a multi-function, one-touch control pad. The control pad is supplied with a standard surface mount unit with a clean white bezel. 
The control pad offers four options: fill, quick flush, flush, or empty. In addition, the owner can set the control at any time so that the bowl is always left either dry or wet after flushing. The recommended dry setting minimizes total water usage. If water usage is not a concern, the wet setting automatically fills the bowl after flushing, ready for the next user. Simultaneously holding down both the quick flush and flush buttons for 5 seconds switches between bowl always left dry and bowled always left wet modes.
Control Pad Options:
Fill may be touched when the bowl is dry add 1 quart (1 liter) of water before use, if necessary
Quick Flush first rinses and then empties the bowl after light use. On the dry setting, this uses less than 1 quart (1 liter) of water
Flush rinses and empties the bowl twice after heavy use. If the bowl is dry, touching the fill before use is recommended. This uses just 2.5 quarts (2.5 liters) of water
Empty does exactly what it says without adding any water, whenever desired. Even when the bowl appears to be dry, there is an anti-odor water lock in the pump housing
Rinse Options:
Supplied with a remote-mounted, self-priming pump to bring in sea, river, or lake rinse water 
Complete with a Jabsco Pumpgard strainer
Specifications:
Color: White
Operation Method: Electric
Rinse Water: RAW
Volts: 12
Owner's Manual (pdf)