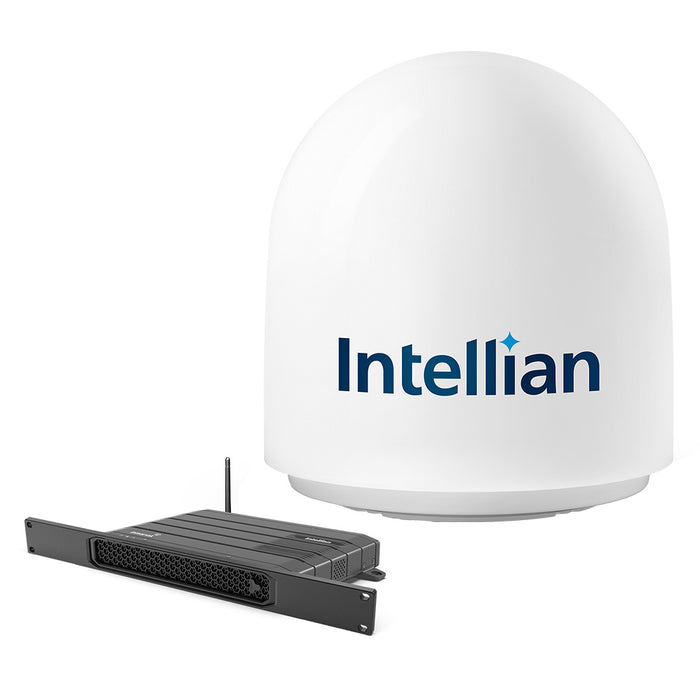 Intellian FB500 Inmarsat Fleet Broadband Maritime Terminal w/19" Rack Mount BDU [F4-A500-R]
FB500 Inmarsat Fleet Broadband Maritime Terminal with 19" Rack Mount BDU
Intellian FB500 is the newest terminal for Inmarsat's FleetBroadband service, with simultaneous voice and data connectivity up to 432 Kbps. The FB500 has been designed to work equally well as part of an FX installation or as a fully featured stand-alone terminal. Intellian FB500 ensures resilient and reliable connectivity at sea. 
The lower total cost of ownership -The FB500 is a highly reliable terminal that is easy to install and has a wide range of features and functionality that reduces the amount of additional equipment required. It minimizes air time costs through automatic WAN switching and preventing out-of-policy usage. The terminal comes with market-leading 3-year parts and a 2-year labor warranty.
A perfect companion - The FB500 can be paired with one of Intellian's Global Xpress (GX) terminals to provide an outstanding Fleet Xpress (FX) solution. It is easily integrated using Fleet Edge and comes with a comprehensive, documented API library.
All-in-one stand-alone solution -The FB500 offers unparalleled features and functionality that includes: automatic switching between WAN and Inmarsat's satellite connection, Wi-Fi antenna, built-in soft PABX, and a firewall. These features, along with being GMDSS-ready, make it ideal for vessel operations, safety, and crew welfare.
AptusLX is intuitive and powerful - Simple and quick installation of the FB500 via AptusLX, an intuitive yet powerful terminal management software. With secure login functionality both onboard and for remote support teams, and a customizable dashboard with multi-language support.
Features:
Connects to Inmarsat's ELERA network using their latest L-band modem
Efficient 3-axis directional 19-patch phased array antenna
Unlimited azimuth rotation
Single cable connecting ADU & BDU
Technical Specifications:
DC Input - 10.8 - 30 VDC 
Power (Max) - 120W
RX Frequency - 1518.0 MHz - 1559.0 MHz 
TX Frequency - 1626.5 MHz - 1675.0 MHz 
Antenna Connectors - N female (ADU) – TNC female (BDU) 
Wi-Fi - 802.11 b/g 
ADU Dimensions - 733 x 797 mm / 28.8" x 31.4" 
ADU Weight - 29.5 kg / 65 lb 
BDU Dimensions - 315 x 190 x 42 mm / 12.4" x 7.5" x 1.7" 
BDU Weight - 1.5 kg / 3.3 lb
Quick Guide (pdf)