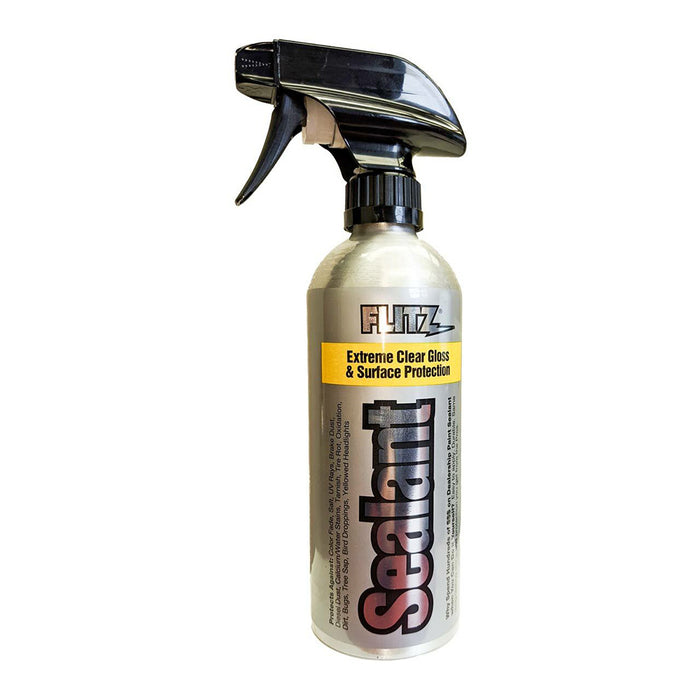 Flitz Ceramic Sealant 473ml/16oz Spray Bottle [CS 02906]
Ceramic Sealant - 473ml/16oz Spray Bottle
This ceramic coating spray is the king of protection. Creates a ceramic shell coating that lasts up to a year!
Simple-to-use ceramic spray coating gives virtually any hard surface a water-resistant, hard-shell finish. Perfect for cars, boats, RVs, counter-tops, firearms, kitchen and bath fixtures and so much more! Long-lasting protection in an easy-to-apply spray!
Features:
Protects surfaces for up to one year
Repels water and the elements
User-friendly instant spray-on protection
16oz Bottle covers 2200 sq ft
Flitz Ceramic Sealant sprays onto any surface with a simple squeeze of the trigger! You'll get the benefits of ceramic protection without the costs and headaches of traditionally applied ceramic coatings. A professional detailer is no longer necessary to give you long-lasting protection from anything mother nature dishes out. The advanced Flitz formula can be applied in minutes with no special training or equipment!
Protection That Lasts
Take look at your car's finish under a microscope and it looks like forty miles of bad road. Those microscopic pits and crevices provide the perfect resting place for dirt, oils, and every kind of airborne contaminant you can think of. Believe it or not, even slamming into microscopic particles at fifty-five miles an hour takes a toll on your car's finish. No wonder your car gets dull and dingy! Flitz Ceramic Sealant allows you to add a super-slick, water-resistant second skin on top of your car's finish so that it takes the beating instead of your paint. And with nothing to stick to, gunk and water slide right off!
The Power of Ceramic in a Spray-On Format 
The versatility of Flitz Ceramic Sealant means great value for money too! Use it on virtually every hard surface except floors. (It's way too slick for floors.) Granite, marble, glass, fiberglass, stainless steel, even the diamond plate toolbox in the bed of of a pickup will benefit from the additional protection of Flitz hydrophobic nano-ceramic technology! And it's all backed by a 100% money-back guarantee! 


Safe on:
All Metals
Fiberglass
Clear Coats
All Paints
Plastics
Granite
Glass
All Man-Made Hard Surfaces
To Use:
Spray On
Immediately buff with a Flitz Microfiber Polishing Cloth. No need to let dry
For BEST RESULTS: Apply a second coat after 48 hours