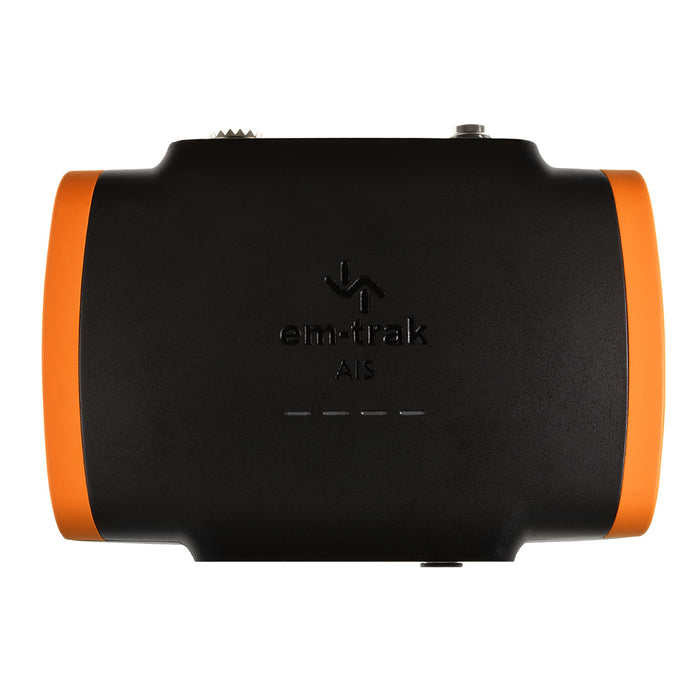 em-trak B952 Class B AIS Transceiver - 5W SOTDMA - WiFi Bluetooth [430-0011]
B952 Class B AIS Transceiver - 5W SOTDMA - WiFi & Bluetooth
**As the FCC requires all units sold in the US to be programmed by a qualified technician. Please submit the form below for programming at the time of purchase. A copy of the MMSI registration or FCC Ship Station License is required along with the vessel master or owner's signature on the completed programming form.**
The B952 is a high-power (5W SOTDMA) Class B AIS transceiver, offering unmatched performance and ultra-low power consumption. Small and lightweight, it combines integrated Wi-Fi & Bluetooth capabilities for seamless wireless connectivity and AIS data streaming. It is compatible with any mobile device, PC, or wearable – ensuring everyone on board gets the most from your transceiver and related onboard equipment every day.
The B952 transceiver works seamlessly with em-trak's CONNECT-AIS app to make programming, configuration, and device monitoring easier than ever before. The class-leading device is engineered to deliver real-time data processing, with increased range and transmission priority and its flexible connectivity means it can be used by up to nine different devices simultaneously.
em-trak's next-gen technology means the B952 is delivered within a compact, easy-to-install, rugged package designed and manufactured to operate reliably without maintenance in the harshest marine environments.
Features:
Certified AIS Class B – 5W SOTDMA
Integrated WiFi & Bluetooth
Global certification - USCG / FCC / Canada / Europe
SRT-AIS™ Transceiver Engine for superlative proven performance
FLEXI-FIT™ bracket system for easy, convenient, and secure installation
Internal high-performance GPS receiver and antenna (external antenna optional)
Water, pressure spray, and damp proof (IPx6, IPx7 certified)
Protected from vibration, shock and extreme temperatures
Small and lightweight
Ultra-low power consumption – best in class
Guaranteed connectivity and interoperability with any app, chart plotter, smart phone, tablet or PC
NMEA 0183 & NMEA 2000
Automated health and performance monitoring
Silent mode (transmit-off) function
Enhanced RF screening to protect against
electromagnetic interference
Built-in power surge protection
Physical & Environmental Specifications:
Size (H x W x D): 150 x 115 x 45mm
Weight: 385kg
Operating temperature: -25°C to +55°C
Storage temperature: -25°C to +70°C
Ingress protection: IPx6 and IPx7
Electrical Specifications:
Supply voltage: 12V or 24V DC
Supply voltage range: 9.6V - 31.2V DC
Average current (at 12V): 170mA
Average current (at 12V) (wireless off): 135mA
Peak current: 2.5A
Average power consumption (at 12V): 2.0W
Average power consumption (at 12V) (wireless off): 1.6W
Galvanic isolation: NMEA 0183 inputs only, NMEA 2000, VHF antenna port
Connectors:
VHF antenna: SO-239
GNSS: TNC
Power: 12-way circular multipole
NMEA 2000: 5-way Micro-C connector
USB: USB Micro-B
Data Interfaces:
NMEA 0183: 2 x bi-directional ports
NMEA 2000: NMEA 2000 Ed 3.101, LEN=1
USB: PC virtual com port for NMEA 0183 data
WiFi: IEEE 802.11 (a/b/g), client and access point mode supported (2 connections in access point mode)
Bluetooth: BT Classic 4.0, 7 concurrent connections
Standards Compliance:
AIS standards: IEC 62287-2 Ed. 2, ITU-R M.1371.5
Product safety standards: EN60950-1 2006 +A11:2009 +A1:2010 +A12:2011 +A2:2013 EN62311:2008
Environmental standards: IEC 60945 Ed. 4
Serial data interface standards: IEC 61162-1 Ed 5.0, IEC 61162-2 Ed 1.0
NMEA 2000: NMEA 2000 Ed 3.101
GNSS performance standards: IEC 61108-1 Ed 2.0,  IEC 61108-02 Ed 1.0
GNSS:
Systems supported: GPS, GLONASS, BeiDou, Galileo (two of any combination, three including GPS, Galileo)
Channels: 72
Internal/external antenna: Internal or optional external antenna
Time to first fix from the cold start: 26s
VHF Transceiver:
VDL access scheme: SOTDMA
Operating frequency: 156.025MHz - 162.025MHz
Channel bandwidth: 25kHz
Receivers/transmitters: 2 x receivers, 1 x transmitter
AIS receiver sensitivity (20% PER): -111dBm
AIS transmitter power: 5W (+37dBm)
User Interface:
Indicators: Power, transmit timeout, error, silent mode
In the Box:
1 x AIS transceiver
1 x Power and data cable (2M)
1 x FLEXI-FIT™ mounting bracket
Complete with screws & optional fixing tape
Specifications:
AIS Class: B
Antenna Included: Yes
Display Included: No
Function: Receive/Transmit
GPS Included: Yes
Box Dimensions: 6"H x 7"W x 7"L WT: 2 lbs
UPC: 672975210557
Quick Guide (pdf)
Brochure (pdf)