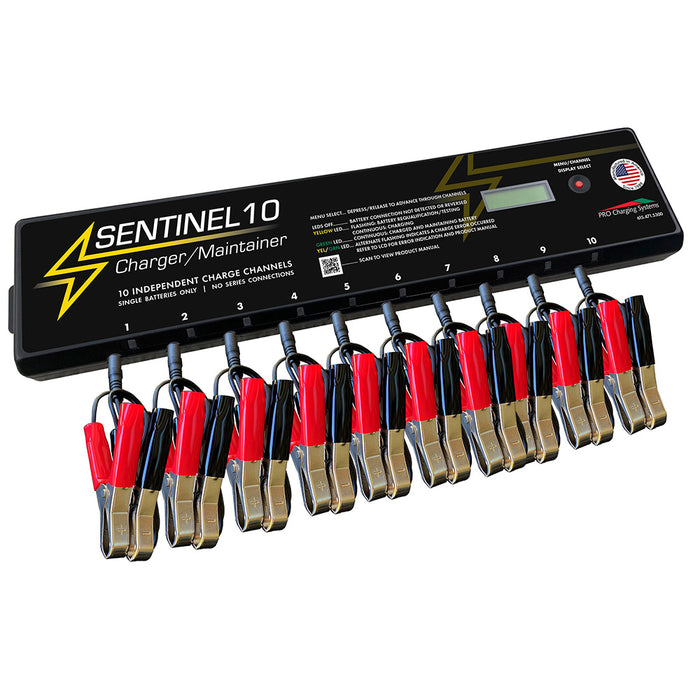 Dual Pro Sentinel 10 Charger/Maintainer [S10]
Sentinel 10 Charger/Maintainer 
Powerful - Charges and Maintains from 1 to 10 batteries simultaneously and independently Intelligent - Various algorithms allow you to choose the profile best suited for your batteries 
Features: 
Safety Features: no-spark charging, reverse battery protection 
Output Connector: 10x - 4 feet [1.2 m] leads with Red/Black battery clamps 
Display: 2x LEDs per channel, LCD with current voltage/amperage 
Input Rating: 100-240Vac, 50/60Hz Worldwide Universal Input 
Output Rating: 12VDC @ 500mA per channel 
Dimensions: 1 in. x 3 in. x 14 in. 
Weight: 3.76 lbs.
*For 12 Volt Lead Acid Batteries
Specifications:
Charger Input - Voltage: 120v
Charger Output Voltage: 12v
Charging Banks: 10
Portable: No
Box Dimensions: 5"H x 6"W x 14"L WT: 3.9 lbs
Quick Guide (pdf)