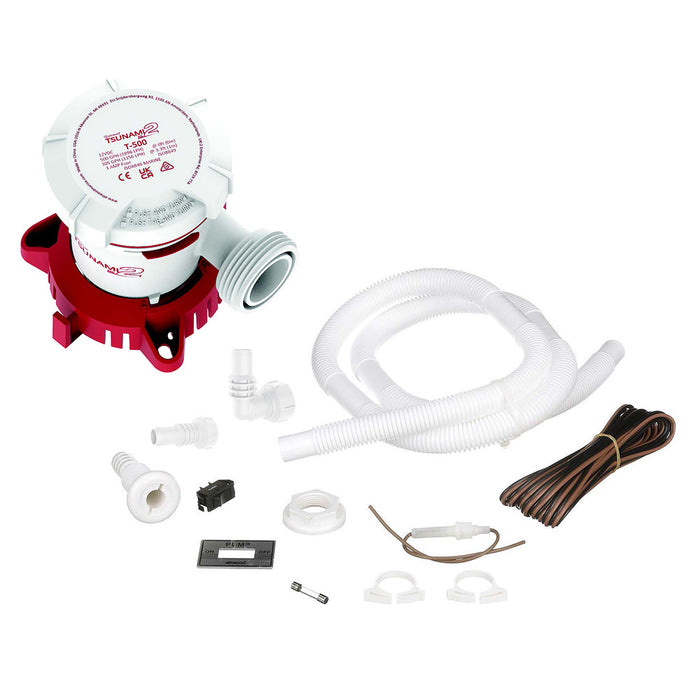 Attwood Tsunami MK2 T500 Manual Bilge Pump w/Installation Kit - 500 GPH 12V [5614-7]
Tsunami MK2 T500 Manual Bilge Pump with Installation Kit - 500 GPH & 12V
This is a complete kit (includes a bilge pump) to install a manual bilge pump with a 3/4" I.D. hose outlet. The Tsunami Mk2 is the only manual bilge pump that eliminates airlocks. This is done by the Patented X-Air™ Impeller, which ejects trapped air in the pump and pipework. Also, the Tsunami Mk2 is the most reliable manual bilge pump in freshwater applications, considering it has 40% better protection against water ingress and electrolysis vs. the Mk1 pump. 
Kit Includes:
Attwood Tsunami Mk2 500 GPH Pump
Washer / Non-Return Valve
90-degree Outlet
Straight Outlet
3/4" x 5' Pump Hose
3/4" Thru-hull fitting
2-way on/off switch with bezel plate
Snap-It hose clamps
Wire Kit
Installation Kit
Easy Installation & Service
GPH (Gallons Per Hour): 500
90° rotatable elbow outlet allows users to install the pump anywhere in a full 360° orientation
Backward compatible hole pattern and motor cartridges of Tsunami Mk1 bilge and aerator pumps
External mounting feet and integrated outlet reduces time and effort
Service pump cartridges from hard-to-reach areas using only one hand
Specifications:
Rated Volts DC: 12V
Fuse Size: 3 Amp
Wire Length: (inch) 29" / (mm) 735
Hose Diameter: (inch) 3/4" and 1"
*Caution: Bilge pump switches are not external ignition protected
Specifications:
Gallons Per Hour: 500
Type: Pumps/Drives
Volts: 12
Box Dimensions: 6"H x 7"W x 9"L WT: 1.75 lbs
UPC: 022697024213
Quick Guide (pdf)