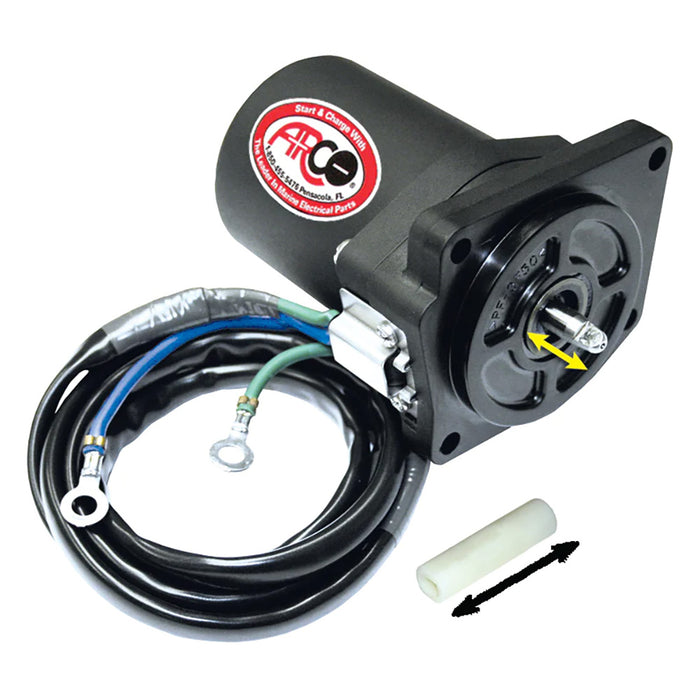 ARCO Marine Replacement Outboard Tilt Trim Motor - Yamaha-4 Bolt, 5/8" Flat Blade Shaft [6258]
Replacement Outboard Tilt Trim Motor - Yamaha-4 Bolt, 5/8" Flat Blade Shaft

Replacement outboard tilt trim motor that will fit Yamaha 2005-UP 75 HP 4 Stroke, 2005-UP 90 HP 4 Stroke, 2-wire connection, 4-bolt mount, Includes O-ring & Coupler, Ring Terminal Ends.
ARCO advises cleaning all connections: A corroded connection creates resistance, lowering the amperage required to operate the motor.
Features:
Tilt trim motors are dynamically tested to ensure out-of-the-box performance 
Motor shafts induction case hardened at bearing surfaces for superior wear resistance 
Epoxy Powder coated for maximum insulation protection
Warranty Information:
When properly installed, all ARCO products are warrantied against defects in materials and workmanship for a period of 12 months for leisure use and 90 days for commercial or racing applications. 
Add an extra year of warranty to your rotating electric ARCO product (Tilt/Trim Motors, Alternators, Outboard Starters, and Inboard Starters) when you register your product within 30 days of purchase. You can register your product by visiting arcomarine.com/product-registration 
Replaces:
YAMAHA Tilt Trim Motor 6D8-43880-00
YAMAHA Tilt Trim Motor 6D8-43880-01
YAMAHA Tilt Trim Motor 6D8-43880-09
This product may not be returned to the original point of purchase. Please contact the manufacturer directly with any issues or concerns.
Quick Guide (pdf)