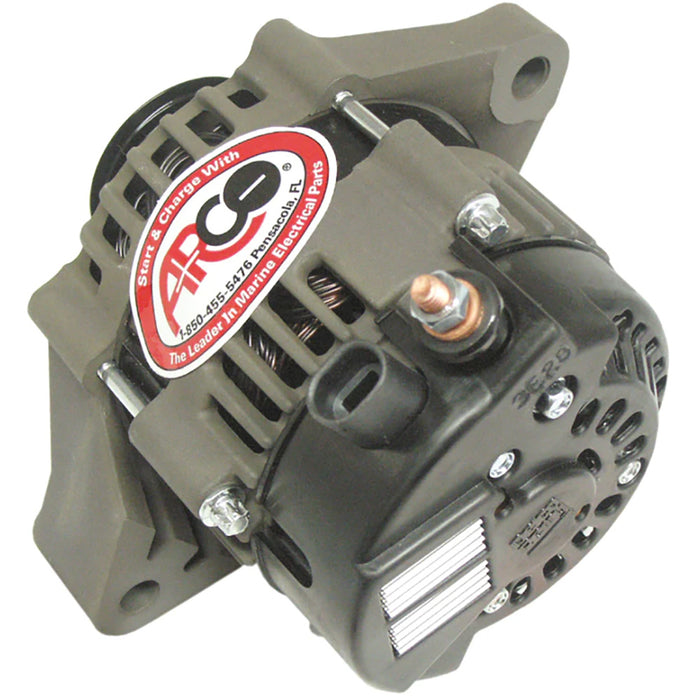 ARCO Marine Premium Replacement Outboard Alternator w/Multi-Groove Pulley - 12V 50A [20850]
Premium Replacement Outboard Alternator with Multi-Groove Pulley - 12V 50A
Replacement alternator that will fit 1.5L & 3.0L Mercury Outboard, 12 Volt, 50 AMP, Internal Fan, Multi-groove serpentine pulley included, Includes wire/plug connector.
Features:
All alternators are engineered for performance and reliability
All alternators are engineered and manufactured with precision and quality
All alternators must meet or exceed OEM performance before being boxed
Warranty Information:
When properly installed, all ARCO products are warrantied against defects in materials and workmanship for a period of 12 months for leisure use and 90 days for commercial or racing applications. 
Add an extra year of warranty to your rotating electric ARCO product (Tilt/Trim Motors, Alternators, Outboard Starters, and Inboard Starters) when you register your product within 30 days of purchase. You can register your product by visiting arcomarine.com/product-registration 
Replaces:
DELCO Alternator 8600514
DELCO Alternator 19020704
DELCO Alternator 19020707
MERCURY Alternator 8M0064020
MERCURY Alternator 8M6000803
MERCURY Alternator 828506
MERCURY Alternator 875286A-1
MERCURY Alternator 881247A1
MERCURY Alternator 889956
SIERRA Alternator 18-6455
PROTORQUE Alternator PH300-0031
PROTORQUE Alternator PH200-T010
PROTORQUE Alternator PH200-T015
PROTORQUE Alternator PH200-T016
MPPARTS Alternator TRM0009
MPPARTS Alternator TRM0066
This product may not be returned to the original point of purchase. Please contact the manufacturer directly with any issues or concerns.
Specifications:
Amperage: 50A
Voltage: 12V
Box Dimensions: 8"H x 8"W x 9"L WT: 7.3 lbs
UPC: 693006008219
Quick Guide (pdf)