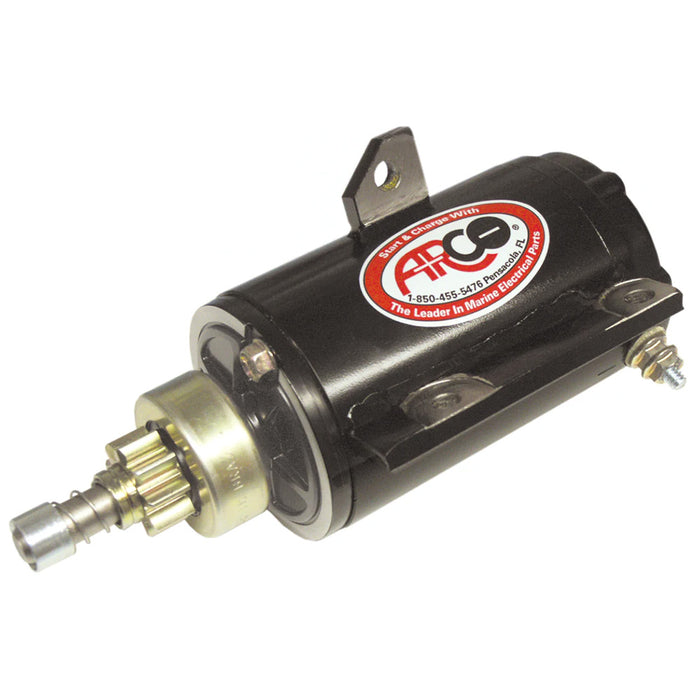 ARCO Marine Original Equipment Quality Replacement Outboard Starter f/Evinrude 40, 50, 75 90 HP E-TEC Models [5358]
Original Equipment Quality Replacement Outboard Starter for Evinrude 40, 50, 75 & 90 HP E-TEC Models
This outboard starter will fit Evinrude 40, 50, 75, and 90 HP E-Tec Models, 9-tooth drive gear. 
ARCO advises using a fully charged battery - A weak battery can damage the starter and starter solenoid. And to also clean all connections - A corroded connection creates resistance, lowering the amperage required for an efficient starting circuit.
Features:
Dynamically tested and packaged for out-of-the-box performance
Nickel-coated and/or epoxy-painted to reduce corrosion 
Sealed to minimize water intrusion
Designed for long life and optimum performance
Armatures are tested to withstand 50 times operating voltages (12 volts)
Warranty Information:
When properly installed, all ARCO products are warrantied against defects in materials and workmanship for 12 months for leisure use and 90 days for commercial or racing applications. 
Add an extra year of warranty to your rotating electric ARCO product (Tilt/Trim Motors, Alternators, Outboard Starters, and Inboard Starters) when you register your product within 30 days of purchase. You can register your product by visiting arcomarine.com/product-registration 
Replaces:
BRP-OMC 586768
BRP-OMC 587045
SIERRA 18-6826
This product may not be returned to the original point of purchase. Please contact the manufacturer directly with any issues or concerns.