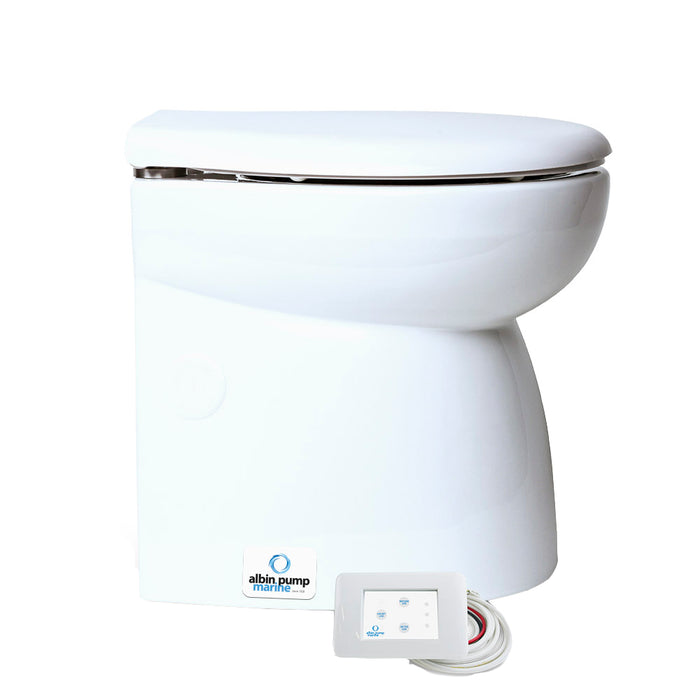 Albin Group Marine Toilet Silent Premium - 12V [07-04-014]
Marine Toilet Silent Premium - 12V
Premium electric standard height toilet with seperated flushing and waste disposal cycle. Including electronic 3 function control panel, before use, after use and short use plus a trimmer to regulate the flow rate.
Water is from existing pressurized water system onboard with 12V solenoid valve (PN 07-66-030) or 12V flush pump (PN 07-66-032)- not included! Very silent operation and maximized comfort. Easy to clean white premium ceramic bowl and white rigid thermoset material softclose seat with stainless steel hinges.
Port conections inlet 19mm (3/4″), outlet 25mm or 38mm (1″ or 1,5″). Robust, stable with a preferred premium appearance like a home toilet. Interchangeable with premium/ luxury models from Jabsco, Dometic, Tecma.
Specifications:
Weight: 18.7 kg/46 lbs

Dimensions: 455/17.9L x 455/17.9H x 365/14.4W mm/in 
Type: Premium Dual Operation Electric
*Certification: CE marked 94/25/ECC, ISO8846 Small Craft, Electromagnetic compatibility 89/336/EEC, EN51014 1993/radio disturbance
Specifications:
Color: White
Size: Household Size
Inlet Size: 3/4"
Operation Method: Electric
Outlet Size: 1" or 1-1/2"
Rinse Water: Fresh
Volts: 12v
Type: Toilet
Box Dimensions: 16"H x 19"W x 19"L WT: 48.6 lbs
UPC: 7340176601599