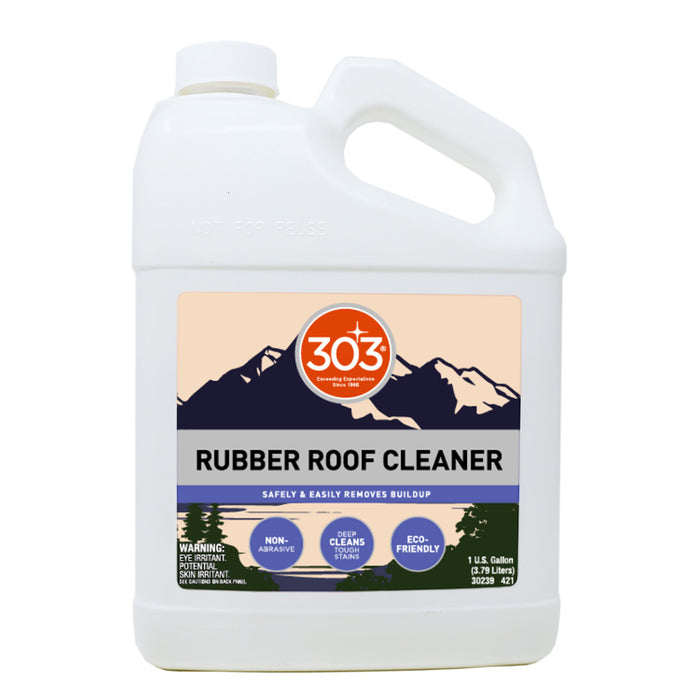 303 Rubber Roof Cleaner - 128oz [30239]
Rubber Roof Cleaner - 128oz
Keep your RV's rubber roof lasting longer using 303® Rubber Roof Cleaner. With frequent and proper cleaning of your RV's rubber roof, you can prevent contaminants from becoming embedded in the surface which causes it to degrade over time. 303® Rubber Roof Cleaner is biodegradable, so it's perfectly safe to rinse it off the roof and siding of an RV. You also do not need to worry about harming the solar panels on the top of your RV either. Simply clean any residue that might get on the panels with water. For the ultimate longevity of your rubber roof, use a coat of 303® Aerospace Protectant after treating with 303® Rubber Roof Cleaner.
Features:
Cleans and dissolves dirt on rubber roofs on RVs, Campers, Pop-Ups, and Motorhomes
Biodegradable and non-abrasive
Will not harm solar panels
Won't damage or dry out siding or rubber seals
Great for use prior to 303® Aerospace Protectant
Directions:
Clean and remove any loose dirt and debris on the roof. Add 5 oz. of 303® Rubber Roof Cleaner to a 5-gallon bucket and fill it with clean water. Clean the roof using a scrubbing tool like a brush or mop, cleaning one 3-4 sq. ft. section at a time. Repeat on all sections of the roof, rinsing tools as necessary. After all, sections have been cleaned, rinse the entire roof with a hose and let dry. Never walk on a wet roof. You may also add to an empty spray bottle and spray on the roof instead of mixing it with water in a bucket.
Rinse any residual runoff immediately to prevent streaking/water marks from occurring over the sides. 303® Rubber Roof Cleaner will not harm solar panels, however, we do not recommend cleaning solar panels with this product.