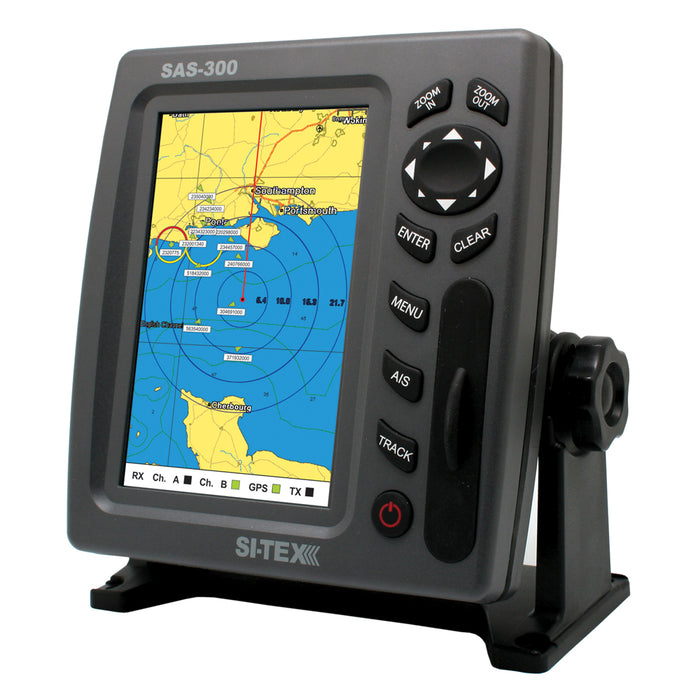 SI-TEX SAS-300 AIS Class B AIS Transceiver w/Internal GPS Antenna [SAS-300-1]
SAS-300 AIS Class B AIS Transceiver with Internal GPS Antenna
Features:
6.5" High-Resolution color TFT display with 740 x 480 pixels
Track AIS targets on standard "radar" display, over included worldwide base charts or (with optional SD Card) overlaid onto full C-MAP MAX cartography
Advanced Rmax™ technology maximizes receive/transmit range, and ensures that all available AIS messages are received and decoded in real-time
Track up to five vessels with track history and optional live details on individual vessels
The large display allows easy viewing of all vessels with name, MMSI, range/bearing, and full details on each vessel
Instant "Go To" function
Full control pad with dedicated function keys for easy operation
Easy-to-use alarms for Closest Point of Approach (CPA) and Time to Closest Point of Approach (TCPA)
Sort different types of vessels by color and different types of transmission by an on-screen icon
Displays the Following Information:
Class A vessels
Class B vessels
Base Stations
Aids to Navigation
AIS SARTs
Search & Rescue
What's in the box?
Class B Transceiver
Power Data Cable
A packet of 4 screws
Bracket
Product CD
Quick Start Guide
Product Manual
Warranty Info
This product may not be returned to the original point of purchase. Please contact the manufacturer directly with any issues or concerns.
Specifications:
GPS Included: Yes
Antenna Included: No
Display Included: Yes
Function: Receive/Transmit
AIS Class: Both A & B
Box Dimensions: 9"H x 9"W x 13"L WT: 7 lbs
UPC: 010407420035
Quick Guide (pdf)