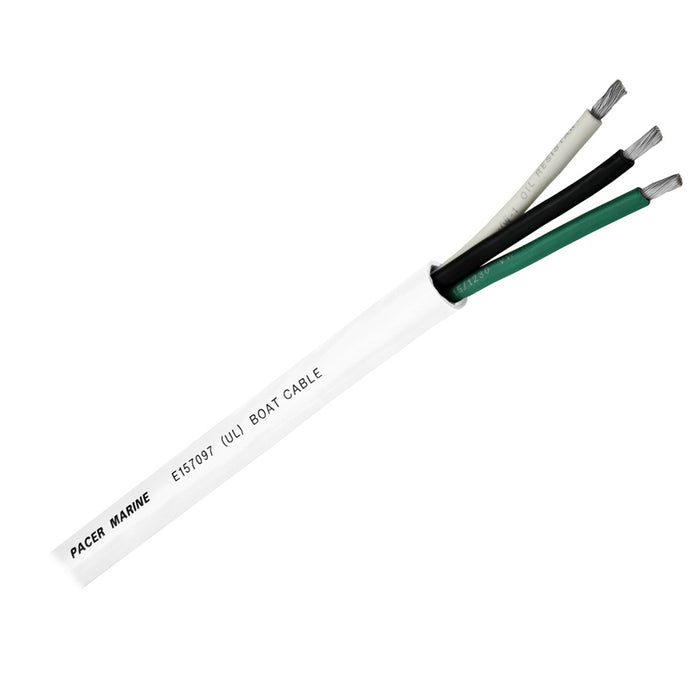 Pacer Round 3 Conductor Cable - 250 - 10/3 AWG - Black, Green White [WR10/3-250]
Round 3 Conductor Cable - 250' - 10/3 AWG - Black, Green & White
Round boat cable is perfect for installation in tight or confined spaces like boat hulls. One thing that makes round boat cable the perfect choice is the fact that it can bend in any direction. With other, more flat cables, your range of motion is severely limited. Pacer's 10 AWG round boat cable is UL approved. All Pacer round boat cable is manufactured in Sarasota FL, USA. Its tinned copper conductors provide superior resistance to corrosion. This round boat cable is the ideal choice for multiconductor boat cable and is easy to install for many reasons. For one, it's made from Type III finely-stranded conductors. Next, it carries high-quality flexible PVC insulation. Finally, this boat cable has an overall round shape making it ideal for even the most cramped of spaces. These things combine to make this multiconductor boat cable the easiest to install. Bending in any direction with its extreme flexibility, it also handles the frequent vibration and flex of the marine environment. 
Features:
10 AWG round boat cable
250 ft. of cable
No. of Conductors: 3
Pacer's boat cable is the perfect choice for many marine jobs 
It's ideal for running through sailing spars, poling platforms, and t-tops 
Also, it is the perfect choice for small hulls or other tight areas
Type III, stranded, tinned copper conductors
Highly flexible
Easy to install and organize 
Easily sealed through bulkheads
Specifications:
Conductor Colors: Black, green and white
Conductor Stranding: 105/.0100
Jacket Color: Grey
Jacket Thickness (inch): 3 conductors @ 0.045"
Nom. Cable O.D. (inch): 3 conductors @ 0.545"
Characteristics:
Conductor: Annealed Fine Stranded Tinned Copper 
ASTM B172 Class K
Insulation: -20 °C to 105 °C Flexible, Color Coded PVC
Temperature Rating: 105 °C Dry, 75 °C Wet, 60 °C Oil
Voltage Rating: 600 V
Resistant to: acid, alkali, abrasion, flame, gasoline, oil, and moisture
Applications:
Pacer's round boat cable is excellent for AC and DC internal wiring of boats and recreational vehicles
Compliances:
UL Standard 1426 (BC-5W2)
ABYC: E-11.16
Coast Guard: 33 CFR part 183
RoHS Compliant
Specifications:
Color: Black/Green/White
Gauge: 10/3 AWG
Length (Feet): 250'
Box Dimensions: 12"H x 14"W x 14"L WT: 55.1 lbs
Quick Guide (pdf)