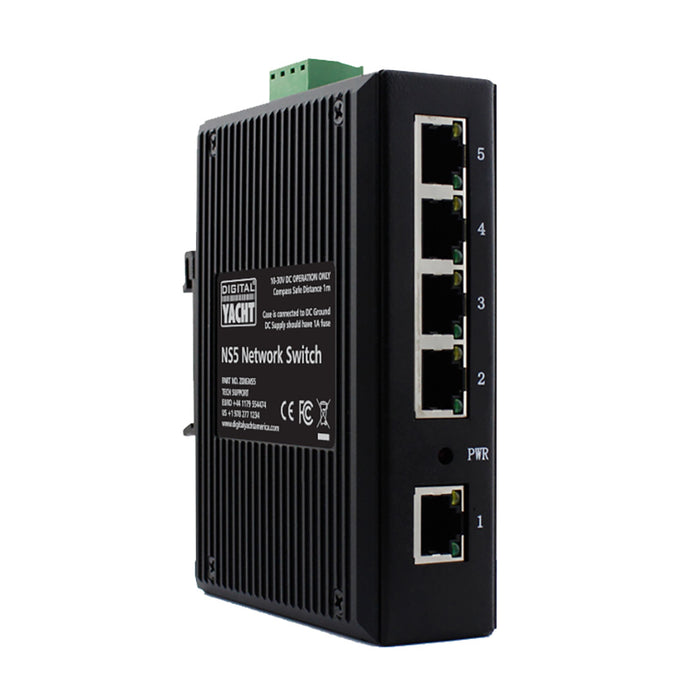 Digital Yacht NS5 5 Port Marine Network Switch [ZDIGNS5]
NS5 5 Port Marine Network Switch
More and more boats now have a wireless router fitted or utilize devices like our 4G Connect for internet connectivity. For optimum data transfer speed, a wired Ethernet connection still offers the fastest and most reliable network connection onboard a boat, and for Streaming TV, VOIP, Security Cameras, and other data-intensive services we always recommend using a wired connection.
Our NS5 Network Switch provides a simple and rugged solution to increasing the number of wired Ethernet connections on the vessel. Designed to operate from a 9v to 36v DC supply, with dual redundancy power supply design, a DIN rail mount, and five RJ45 10/100 Ethernet ports, the NS5 allows you to reliably expand your boat's Ethernet network.
Installation could not be easier, simply connect one of the NS5's RJ45 sockets to a LAN socket on our 4GConnect or 4GXtream routers, using a normal network cable and wire the NS5 directly to the boat's 12v or 24v DC supply. Our 4G router will continue to provide IP addresses to any device plugged into the NS5 (via DHCP) and you can immediately see the status of all the Ethernet connections by the flashing Yellow and Green LEDs on each of the NS5's ports.
Specifications:
5 Port Network Switch
12/24v DC low power operation
Dual redundancy power supply design
Connects to the router via RJ45 Cat 5/6 network cable connection
Supports 10/100 base-T
DIN Rail (IEC/EN 60715 – 35 × 7.5mm) mounting bracket and 100mm rail included
Status indicators for power and network link status
Version: NMEA0183, NMEA2000